You've probably heard the terms "pips," "points," "pipettes," and "lots" thrown around, and now we'll explain what they are and how to compute their values. Take your time with this material because it is essential for all forex traders.
Do not even consider trading until you are comfortable with pip values and profit and loss calculations.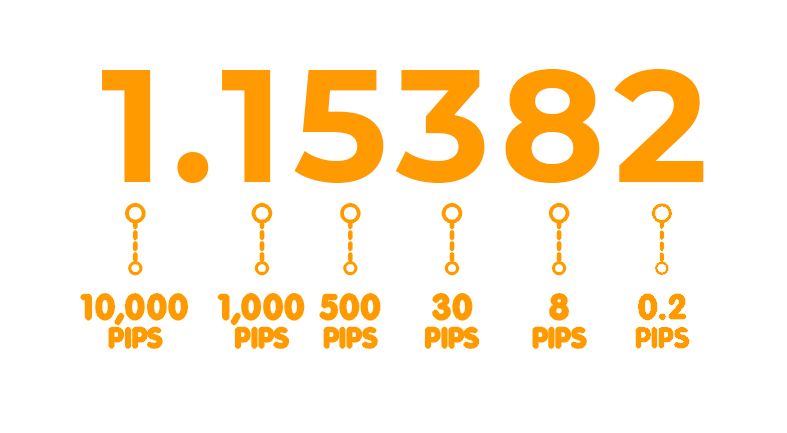 A "pip" is the unit of measurement used to describe the difference in value between two currencies.
If the EUR/USD pair increases from 1.1050 to 1.1051, the.0001 USD increase in value equals ONE PIP.
A pip is the last decimal point of a pricing quote.

Most pairs are accurate to four decimal places, with the exception of Japanese yen pairs (they go out to two decimal places).
For example, it is 0.0001 for EUR/USD and 0.01 for USD/. 
Forex brokers quote currency pairs to "5 and 3" decimal places rather than the typical "4 and 2" decimal places.
They are referring to FRACTIONAL PIPS, often known as "points" or "pipettes."
If the concept of a "pip" isn't already perplexing enough for the novice forex trader, consider this: a "point," "pipette," or "fractional pip" is equal to a "tenth of a pip."
For example, if GBP/USD increases from 1.30542 to 1.30543, the.00001 USD increase equals ONE PIPETTE.
Here's how fractional pips look like on a trading platform
How to Calculate the Value of a Pip
Because each currency has its own relative value, the value of a pip for that currency pair must be calculated.
We'll use a quote with four decimal places in the following example. Exchange rates will be expressed as a ratio to help explain the calculations (for example, EUR/USD at 1.2500 will be written as "1 EUR / 1.2500 USD").
Example #1: USD/CAD = 1.0200
To be read as 1 USD to 1.0200 CAD (or 1 USD/1.0200 CAD)
(The value change in counter currency) times the exchange rate ratio = pip value (in terms of the base currency)

[.0001 CAD] x [1 USD/1.0200 CAD]
Alternatively, as follows:
(.0001 CAD / 1.0200 CAD) × 1 USD = 0.00009804 USD per exchanged unit